SEATS' Faculty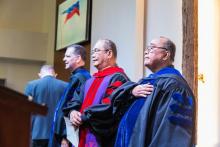 Full-Time Faculty:
Dr. Cesar Vicente P. Punzalan, III, D.Min, Ph.D.
Doctor of Ministry, Bakke Graduate School.
Doctor of Philosophy, Alliance Biblical Seminary
Dr. Jonathan Exiomo, Ph.D.
Bachelor of Ministerial Studies, Ebenezer Bible College, 1978.
Master of Divinity in Biblical Languages and Literature, 1985 Asian Theological Seminary.
Master of Theology in New Testament, 1988 Trinity Evangelical Divinity School, Il., USA.
MA in Religious Studies, Maryhill School of Theology (course done except thesis, 1999).
Doctor of Theology in Philosophy of Religion with concentration on Philosophical Hermeneutics (2002), Asia Baptist Graduate Theological Seminary, Baguio City.
Ph.D. in Applied Theology at Alliance Graduate School, Quezon City, Philippines with concentration on the phenomenon of existence in understanding and the nature of written text (Critical Hermeneutics, 2015).
AB English @ North Western University, Dagupan City, 2013.
https://independent.academia.edu/JonathanExiomo
Dr. Michael J. Fast, Ph.D.
Bachelor of Arts in Religious Studies, University of Saskatchewan
Master of Divinity, Canadian Baptist Seminary
Doctor of Philosophy in Philippine Studies, University of the Philippines
https://www.researchgate.net/profile/Michael_Fast
Rev. Gregotimo Azares, M.A.T.U.L.
Master of Arts in Urban Transformational Leadership, Asian Theological Seminary
Rev. Manuel Arevalo, M.Min.
Bachelor of Theology, Baptist Theological College.
Master of Ministry in Missional Ecclesiology, South East Asian Theological Schools, Inc.
Graduates of SEATS current Masters-level programs are qualified to teach in all programs up to and including the Master of Ministry. Dr. Exiomo, Dr. Punzalan, and Dr. Fast are qualified to teach in the D.Min. and Ph.D. programs.
Part-Time Faculty: