Welcome to Schools of Mission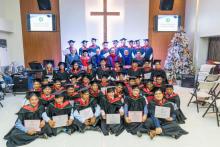 SEATS is the South East Asian Theological Schools, Inc. (formerly College of the Shepherds), a pastoral-training school established in 1986 for the purpose of preparing church leaders for effective ministry in the Philippines. It works primarily with churches affiliated with the Baptist Conference of the Philippines, International, but is open to all churches in need of training.
Schools of Mission are the primary way SEATS conducts its church-equipping ministry. SOMs are held in partnership with local churches in various parts of South East Asia.
SEATS currently has campuses in Ortigas, Pasig City, in Molave, Zamboanga del Sur, in Burias, Masbate, and in Thailand.
During near-worldwide community quarantine and/or lockdown, SEATS will continue providing needed training online via Zoom!