Welcome to Schools of Mission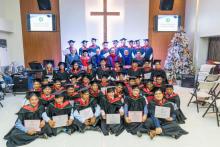 SEATS is the South East Asian Theological Schools, Inc. (formerly College of the Shepherds), a pastoral-training school established in 1986 for the purpose of preparing church leaders for effective ministry in the Philippines. It works primarily with churches affiliated with the Baptist Conference of the Philippines, International, but is open to all churches in need of training. SEATS is a member of the International Council for Higher Education.
SEATS envisions a church that is functional. SEATS' mission is to help churches develop functionality through theological education.
Schools of Mission are the primary way SEATS conducts its church-equipping ministry. SOMs are held in partnership with local churches in various parts of South East Asia.
SEATS currently offers programs at three levels. Students with any amount of education up to some college level courses, can enrol in the Graduate Diploma of Ministry program. Students who have completed an undergraduate degree may enrol in the Master of Ministry program. Students who have completed a Master's degree may enrol in the Doctor of Ministry degree program.
See more information here.
Pre-COVID-19, SEATS conducted on-site classes in the Philippines (in Ortigas, Pasig City; in Molave, Zamboanga del Sur; and in Burias, Masbate), in Thailand, and in Denver, USA. The new pandemic-related requirements saw SEATS begin classes via Zoom in May 2020. Since then our course offerings and constituency has been expanded to include Filipinos in the Philippines, Thailand, the USA, and Canada.